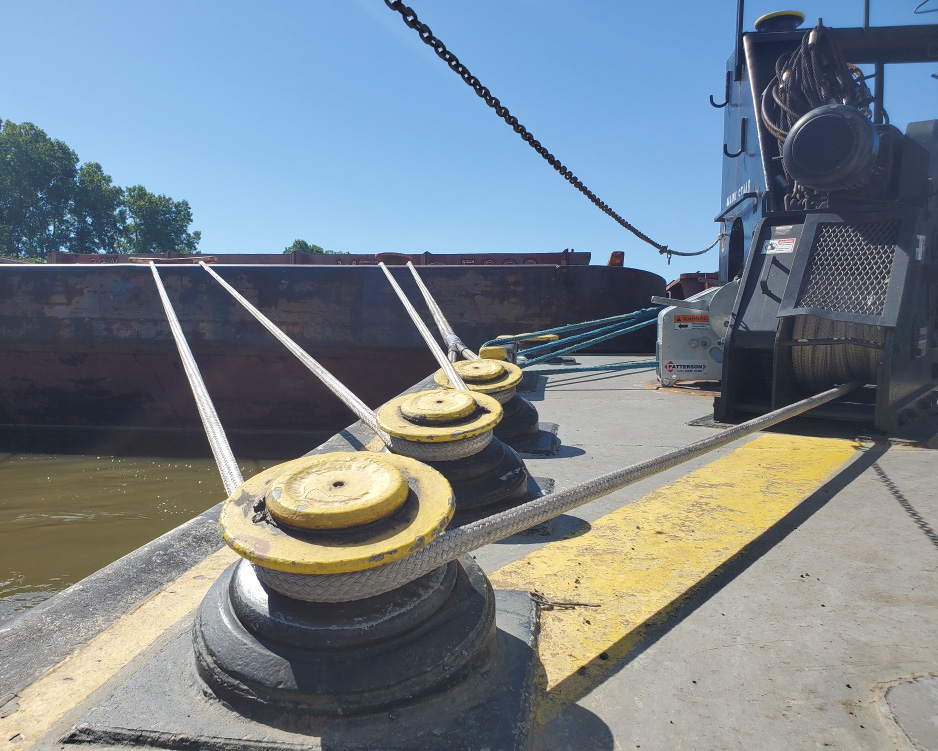 Benefits of Synthetic Towlines as Featured in WorkBoat Magazine
by Michael Crowley
Read the full article on WorkBoat Magazine's website
Getting inland barge companies to replace wire towing cables with synthetic line is key for cordage companies that want to gain more traction in the towing market. But it can be difficult convincing companies to make the switch.
To start with, "riverboat operators may not be aware of this type of rope and the benefits and options they have," said Garrett Krapf, regional account manager with Yale Cordage, Saco, Maine. He added that "change is difficult."
The benefits of synthetic line include weight savings and usability.
Synthetic line is seven times lighter per-diameter than wire and easier for deckhands to work with. There's significantly less chance for injuries, and "that's the big thing, back injuries and worker's comp claims," said Krapf. "One worker's comp claim from a deckhand with injuries from throwing wire around can really hurt the company. It's a lot easier to handle something that's seven times lighter." Additionally, synthetic line doesn't rust or kink.
A company that switches from wire to rope has a learning curve. "You don't want just a swap out," Krapf said. Synthetic line compared to wire is soft and needs to be protected. Thus, winch drums, flanges, bollards, chalks, and whatever the wire has passed over and worn into needs to be inspected. Any sharp edges must be ground down and resurfaced, otherwise the line, especially when under a significant amount of tension, could fail.
For a towboat that's about the worst thing that can happen. Then the towed vessel could suddenly go adrift, a line snaps back and severely injures or — worst-case scenario — kills a deckhand. Decreasing the chance for line failure was the impetus behind the introduction of Yale's River Max.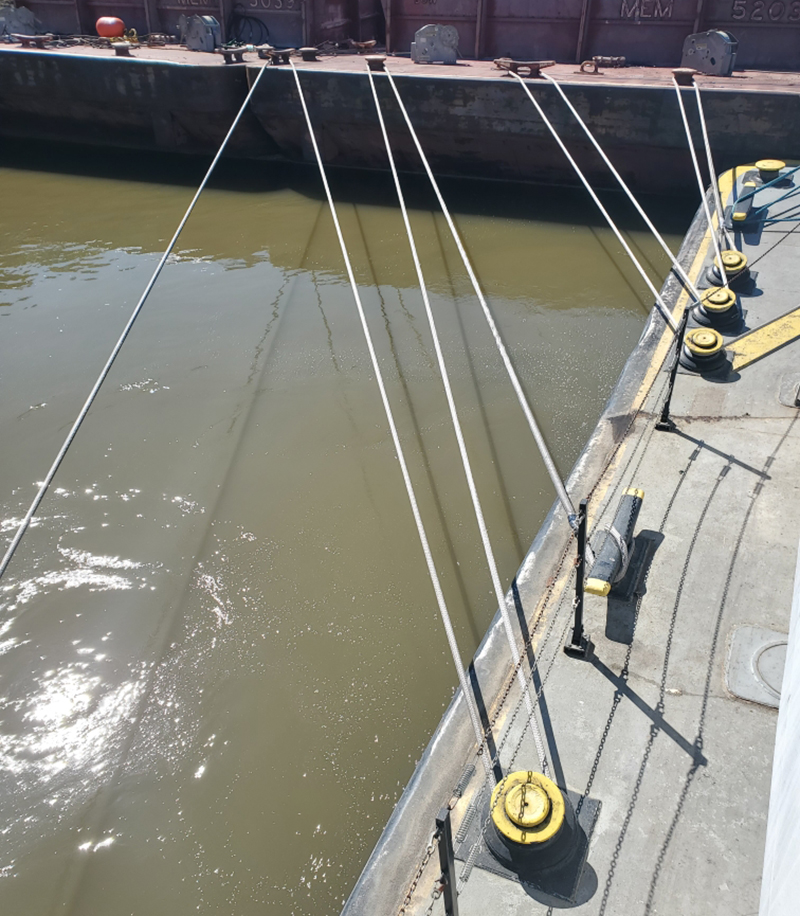 Introduction of River Max
River Max, a rebranded product, is still known as Mega Max in the industrial market. River Max was introduced to the workboat market last summer. It's designed to take the place of chafing sleeves that protect a tow line from abrasion where there's high wear potential, such as the edge of a barge.
River Max is a double-braided rope of high modulus polyethylene (HMPE) fiber, with a diameter ranging from 5/8″ to 1 ½" that covers up and protects 12-strand Ultrex line that's the River Max's load-bearing core. River Max is a core-dependent rope, meaning that 100% of the rope's strength comes from the core — the 12-strand Ultrex line. The protective jacket doesn't provide any line strength. It's strictly there for abrasion protection.
When the River Max HMPE covering starts to wear though from abrasion, just strip the jacket off to repair or replace it. "The 12-strand Ultrex line should be in great shape," said Krapf.
River Max works best taking the place of face and wing wires.
River Max "is a game changer," Krapf said. Deckhands no longer have to change sections of chaffing on the line that might get hung up in the roller buttons or chalks. When barge tows being hooked up and moved around and there's only short sections of chafing, that chafing must be positioned and then repositioned. But with River Max, the entire line is covered.
"You can save 10 to 15 minutes per hookup," Krapf said. At the end of the day "that turns into hours and equals x amount of barges that can be moved. Each barge loaded is x amount of dollars." Currently, River Max is in the trial stages with five or six riverboat companies.